After you have set your wedding date, booking the caterer for your reception is the next important step in your wedding planning process. At Cafe Natalie Catering, we recommend booking your event with us between six months to a year in advance of your planned wedding date. This helps ensure that we will be available on that date, and gives you plenty of time to plan your perfect wedding menu. It may be possible to book your event closer to your big day, however, our calendar fills quickly, so it's a good idea to book us for your wedding as soon as possible. Let our years of wedding catering expertise make planning your perfect wedding menu easy and enjoyable!
‍
‍
Step 1: Consider Dietary Restrictions and Preferences
Once you have your date reserved, it is time to begin planning your wedding menu. It is often best to start with the most basic considerations, such as the number of guests that will be attending, their age range, and any dietary restrictions or taste preferences that they may have. Do you need to provide a vegetarian or vegan option? Are there food allergies or sensitivities to consider? These are the questions you should ask as you begin to make your plans.
We are prepared to create a memorable menu for your special day that will go above and beyond your guests' expectations. If you are worried that your menu choices may not be just right for children attending your wedding, we can provide a more kid-friendly meal for them including chicken tenders, mashed potatoes and macaroni and cheese.
‍
Step 2: Choosing Your Theme
The personality of the couple drives the theme of any wedding. Some weddings have very traditional or formal themes, while others may be more whimsical. Your theme can be expressed through the attire of the wedding party, the ceremony, the decor and floral arrangements, the venue, the season, and of course the type of cuisine served at the reception.
Your Wedding Venue
Your overall theme should be compatible with the venue. What is the setting for your wedding and reception? Will the reception occur at the same location as the ceremony? Will it take place indoors or outdoors? Is your venue rustic or sophisticated? All these aspects should be considered so that your wedding menu complements the overall experience of the event.
The Season
Would you like the meal to have seasonal elements? The season may be expressed in a number of ways. You may use seasonal ingredients, or choose a style of food that suits the weather–perhaps heavier, warmer food in winter or lighter dishes in summer. Weddings that occur on or near a holiday may include related elements, including traditional dishes associated with that holiday.‍
Type of Cuisine
The menu itself should reflect the couple's tastes while taking the tastes and needs of the guests into consideration as well. The chosen cuisine may be influenced by the theme, or the theme may be determined in part by the type of food the couple wishes to serve.
Many couples prefer to serve traditional meals, such as a beef filet or chicken marsala. Other couples may opt for more personalized meals that honor their cultural backgrounds, interests, or have some personal meaning. No matter which approach you take, our team of professionals will work with you to create the experience you envision.
‍
Step 3: Selecting the Best Service Style For Your Reception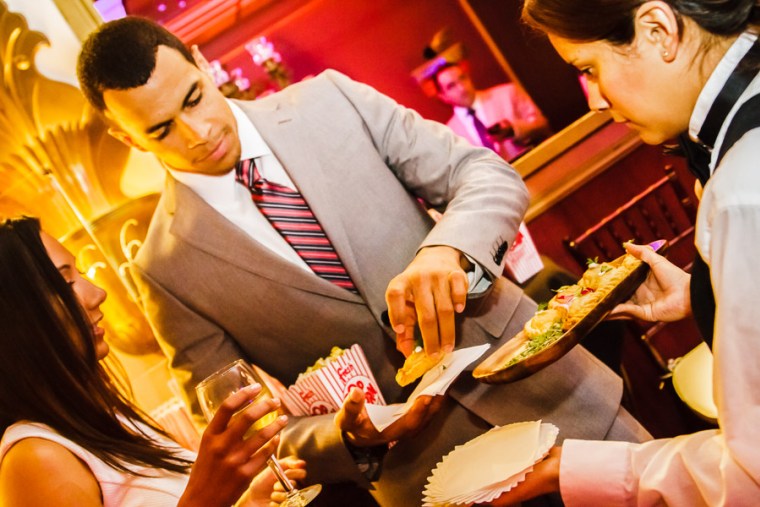 Once you have determined what type of food you might like to serve, then you must decide which service style will best suit your needs. You should consider the number of guests, the venue, and the timeline for the reception.
Seated Dinner
At a seated dinner, each guest's meal is plated individually and delivered to the table by the waitstaff, course of course. This often is best for a fixed menu offering one or two choices of traditional meals, which generally consist of soup or salad served with bread, followed by an entree with side dishes.
Buffet
Buffet service offers each guest dishes from a particular style of cuisine, such as Mexican, Italian, or barbecue. A typical buffet service for Texas barbecue may include brisket, sausage links, ranch beans, creamy potato salad, freshly baked sliced bread, plus pickles, jalapenos, and onions.
Family-Style
Family-style meals are delivered on large platters with enough food for everyone at the table. Individuals take turns serving themselves from each platter and passing them along to the next person.
Cocktail Reception
A cocktail reception offers beverages as well as food options from various stations where servers prepare items to order, and includes passed hors d'oeuvres.
‍
Step 4: Arranging A Tasting Menu and Menu Selection
Prior to your tasting, we will schedule an initial consultation to go over our wedding menu options and help you narrow down your choices to create your final wedding menu. Once this initial consultation is completed, we will arrange a tasting so you may try those dishes and make your final selections. The tasting generally will take place three to five months before your wedding date.
You will receive a complimentary tasting for up to four people after we have confirmed your booking. If you have not booked us yet, but would like to have a tasting, we are happy to provide that service for $50 per person (up to 4 people).
Planning your wedding takes time. The number of decisions that must be made may seem overwhelming, but when it comes to creating the perfect wedding menu, we are here to assist you. Our experienced team will work with you to examine your options and craft a plan, step by step. You can rely on our unparalleled personal service and precise implementation to present a wonderful meal you and your guests will remember for years to come.